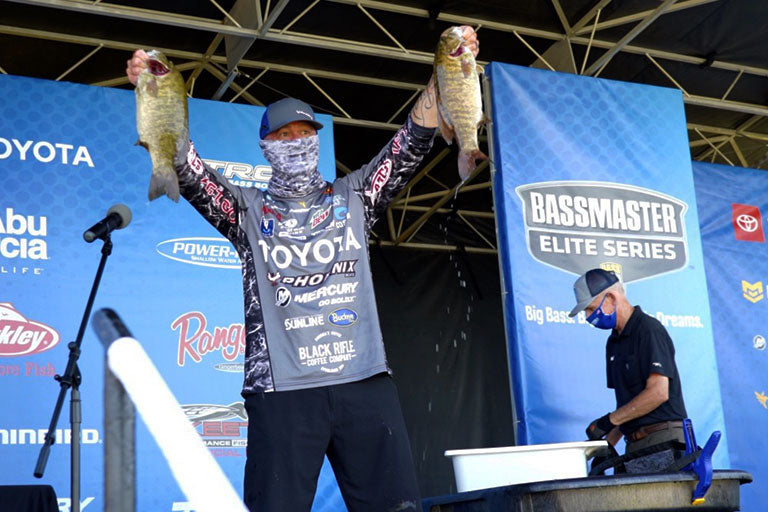 About
Gerald Swindle is bass fishing's funniest man. But beyond the constant supply of humorous quips that drip with his fast talking southern drawl is a guy gifted with fishing talent fueled by a wondrous work ethic and a compassionate soul with and most recently became the 2016 Toyota Bassmaster Angler of the Year which is his second AOY!
2011 Southern Opens Champion at Lake Toho and 2011 Southern Opens points winner.
Gerald's roots can be found in the banks along the Locust Fork River where he fished with his buddies as a kid using hand-me down reels from his father, Tommy.
As a teenager, when not on the water, in the woods, or working hard on the family farm, Swindle was a small school three-sport athlete at Locust Fork High. "In football, we were small in number and size, and fairly void of talent, so I played about six different positions, and I pretty much got hit by just about every other opposing player from nine different schools," Swindle laughs with fond memories and pride of his former teammates.
After high school, Swindle worked with family members as a house framer, hammering the first nail just before sunrise, and walking off the job amid Alabama's sweltering afternoon sun barely in time to drive to one of the local evening jackpot tournaments.
Jackpots led to bigger cash pots and higher entry fees, and like most young wanna-be-pros, Gerald fast found the financial struggles that come with doing well, but not well enough to call it a full time profession … until 1998.
In April of 1998, throwing a spinnerbait with the biggest blade he could hang on the back of it, Swindle won the $150,000 first place prize at an FLW event on Beaver Lake, Arkansas, and essentially launched a professional career that has absolutely blossomed following that spring weekend in Northwest Arkansas.
Six years later, Swindle — often referred to as "The G Man" — achieved bass fishing's highest accolade when he won the 2004 Toyota Tundra Bassmaster Angler of the Year award.
More recently, Swindle won the 2011 Bassmaster Southern Open at Lake Toho in Florida and eventually became the 2011 Bassmaster Southern Open Points Champion.
Gerald's highly admirable 12 trips to the Bassmaster Classic is a feat less than one-percent of all people who have ever paid an entry fee at any level of tournament angling can say they've achieved. Not to mention, he's a very skilled archery hunter who helps host a hunting TV show shown on national cable and satellite channels.
Still he remains humble –self-confident, no doubt — but humble through a circuit of ground wires that includes his wife Le Ann, along with his mom and dad, and a host of friends that help Gerald clearly see life's big picture. His compassion for others, ranging from cancer sufferers to tornado victims, has been well documented.
Gerald's love of spending what very few free Saturday nights his busy career allows at the local hot rod car cruise, listening closely to the lyrics of a favorite artist, followed by a stop at Chick-fil-A to sip a milkshake with his wife LeAnn, plainly showcases his love of life's simple pleasures, and perspective that while covered in humor, is seriously well-grounded.